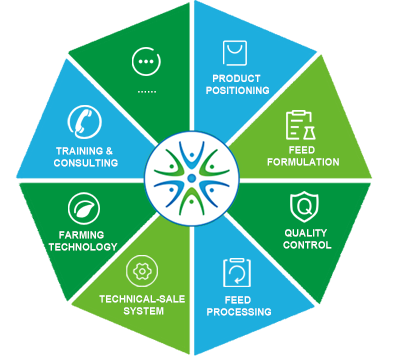 1

Product positioning

- Accurate feed positioning according to 3C principle (customer, competitor, company).
- Suitable positioning for sustainable development.

2

Feed formulation

- Practical formula with balanced nutrition.
- Scientific improved formula with the changing markets.

3

Quality control

- Quality standards for raw materials and feed products.
- Quality management system for aquafeed.

4

Feed processing

- Improve the capacity and productivity of equipment.
- Processing technology combines with new formulation technology.
5

Technical-sale system

- Analysis of market and customer.
- Customer service + feed marketing.

6

Farming technology

- Technical services for the farming.
- Farm-care products for sustainable successful farming.

7

Training & consulting

- Technical training.
- Team building.

8

…